Wind & Impact Resistant Doors
Overview
Insulgard offers complete StormDefend door systems for various hurricane, tornado, wind and impact operational applications. Our wind and impact resistant glass doors are available in single and double door formats.
The Insulgard TTH350 impact and wind resistant doors are designed to help provide protection for areas that may be at risk of serious wind conditions or impact threats. This door system is suitable for use in government facilities, law enforcement facilities, storm shelters, safe rooms, and other facilities that may be at risk. We recommend that this door and frame system be used in conjunction with protected wall areas.
StormDefend impact resistant doors come complete with panic bar and are available in both stock and custom sizes. We deliver your door and door frame ready to be installed in your new construction or retrofit project. Contact Insulgard today to request further information about our impact resistant glass doors and component ratings.
Products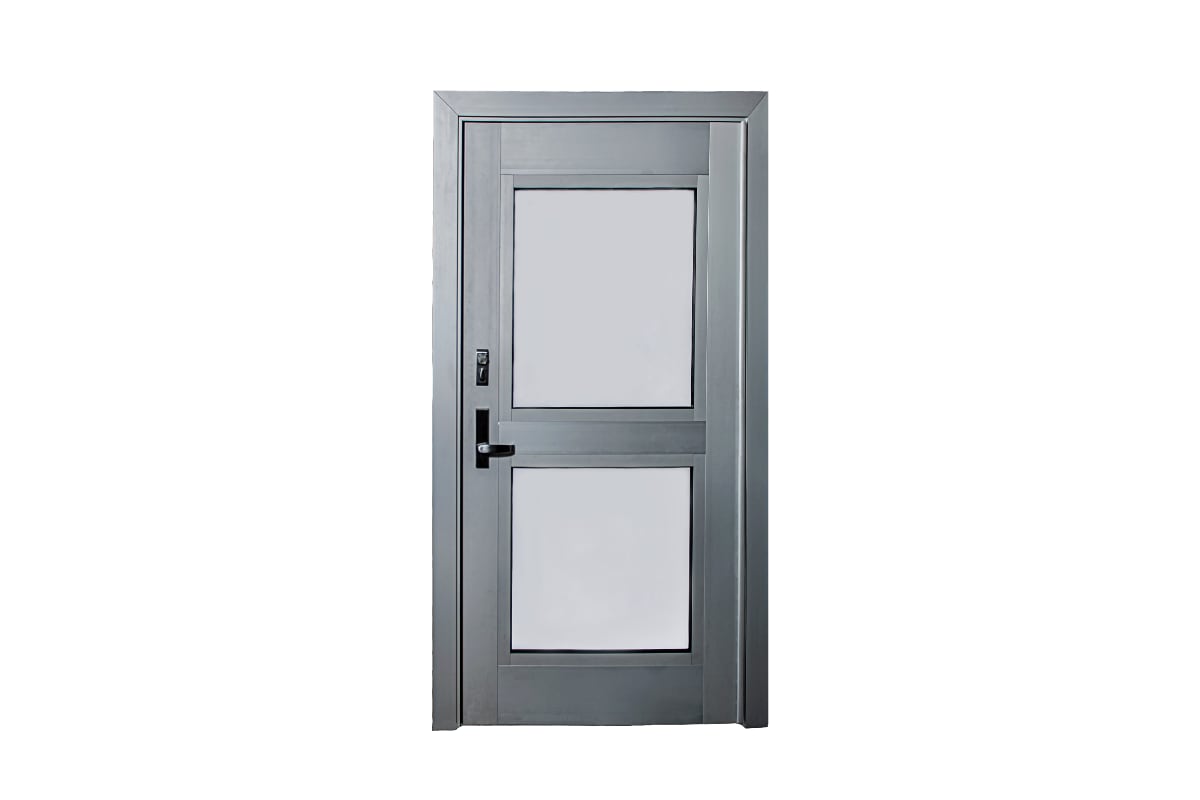 Click to Enlarge
Details
This door system is designed and tested for use in tornado and hurricane safe rooms/storm shelters meeting FEMA P361-15 and ICC500-14 standards. It is critical this system be used in conjunction with equivalent performance substrate/wall areas.
DIMENSIONS
Top rail: 7″ X 23⁄8″
Bottom rail: 81⁄2″ x 23⁄8″
Glazing stops: 13/4″ face
Medium stile: 5″ x 23⁄8″
Mid Rail: 41/2″ x 23⁄8″
Door Frame: 31/4″ x 6″
AVAILABLE CONFIGURATIONS
Single Min Size 3′ x 7′, Max Size 3'6″ x 8′
Pairs Min Size 6′ x 7′,  Max Size 7′ x 8′
REQUIRED HARDWARE
Sargent FM8713 Non-Electrified Surface Vertical Rod Exit Device
Sargent 351 Surface Door Closer
Pemko FMSLF Continuous Gear Hinge
Pemko 172A Threshold
Pemko 18061 Door Bottom Sweep
Rockwood BFLG1050 Latch Guard Cover
Sargent HC980 Removable Mullion (pairs)
OPTIONAL HARDWARE
Sargent FM8774 Electrified Surface Vertical Rod Exit Device with…

306 Auxiliary Control
Electrolynx Harness QC-C1500P Hinge to Power) Electrolynx Harness QC-C012 (Bar to Hinge)
Securitron DPS-M-GY Door Position Switch

Norton 6061 Auto Operator
FEATURES
UL Listed and labeled in accordance with ICC500-14
Glazed with 1.286" TOR-GARD 30 glass
UL752 Level 3 bullet resistant
Anodized or painted finishes
Completely fabricated and shipped fully assembled for easy installation
Job specific anchorage requirements provided
Designed for conventional installation and glazing methods
TESTING / CERTIFICATION
Tested and certified by UL to meet ICC500-14 and FEMA P-361-15 requirements for use in tornado and hurricane safe rooms and shelters including in the 250mph wind zone. UL Certification #ZHLA.71
Tested by UL for bullet resistance meeting UL752 Level 3. Proof of testing can be found at www.ul.com under on-line listings.
NOTE: In accordance with ICC500-14 minimum and maximum sizes of each door configuration require testing. Please contact Insulgard to ensure job specific sizes and configurations fall within testing/certification restraints.
CONSTRUCTION
Door and frame components constructed from extruded aluminum 6061-T6 alloy temper or equivalent
Internal fasteners to be stainless steel type 18-8
Interior/Exterior glazing gaskets to be EPDM sponge and wedge
All joints and connections will be tight, providing hairline joints and true alignment of adjacent members
Anchors to be fully concealed
APPLICATIONS
Schools
Law Enforcement
Fire and Rescue facilities
Emergency Operations Centers
Community Shelters
Corporate Headquarters
Storm Shelters
Safe Rooms
RESOURCES