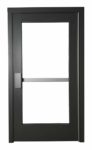 When designing or improving a commercial building, security should be a major priority. Doors provide one of the first and most important lines of defense against physical attacks and damage caused by flying debris or severe storms. 
Traditional doors may be vulnerable to break ins, vandalism, or manipulation. However, commercial security doors are designed to withstand extreme force and keep your business's employees, visitors, and valuable assets safe.
If you're interested in improving business security, here are some of the most important things that you should know about commercial security doors.
What Are The Benefits of Commercial Security Doors?
Commercial security doors provide significant strength over traditional doors. They are made with durable materials and reinforced with glazing and security features that prevents them from being vulnerable to extreme weather, forced entry, and even ballistic threats. Although no door can provide 100 percent protection in every situation, these products are built to withstand significantly more impact than traditional doors made out of wood, glass, or various synthetic materials that aren't designed to withstand extreme impact. 
For a business, this added strength at entry points and throughout the building can help to protect property, employees, and visitors from a variety of threats. If there's an attempted break in or attack, reinforced doors can hold off intruders for an extended period of time, keeping them out indefinitely or at least giving first responders a better chance of apprehending the threat before any serious damage is done. This can also prevent thieves from easily breaking into buildings after hours or when there aren't staff members on site when their intention is to steal or vandalize a business's assets or facility. 
In addition to the physical reinforcements that security doors provide, they can also help to prevent theft or violence from even occurring in the first place. If potential intruders are aware of the security measures in place at a commercial building, they may be less likely to target that location since they know it will be a more difficult or time consuming job to carry out. Detering these events can help the building owner, staff members, and visitors all enjoy more peace of mind about spending time in the facility without having to worry about potential violent incidents. 
Can Insulgard Custom Design a Commercial Security Door Solution?
There are several different steps involved in having commercial security doors added to your company's facility. You first need to design the doors that best suit your needs. This includes choosing the materials that are most likely to protect against relevant threats to your business. For instance, some doors are built to withstand light ballistic rounds, while others are better suited to prevent forced entry or extreme weather. Some are even able to hold up against Multilple large ballistic rounds like those from a 7.62mm rifle. 
From there, you can also opt for design elements that help the doors fit in with the aesthetics of your facility. You might want them to match a certain color palette or simply fit with the overall feel of the building. And of course, they need to fit the size and layout of your space. Once those decisions are made, you need to have the doors actually installed in your building. 
With all of these steps involved in choosing and adding commercial security doors, it's important to have a partner that can help to walk you through the process. Insulgard is a provider of security products that can help businesses with all of these different aspects. We help builders and commercial property owners create a solution that's completely customized to their needs, from choosing the right type of threat protection to working with the local glazing contractor installing the doors throughout the facility to ensure a successful project. This can help you simplify the process of shoring up physical security in your building and get back to managing the important aspects of your business, while enjoying the peace of mind that comes with having enhanced physical security in place. 
Can Bulletproof Doors For Business Still Look Appealing?
Although safety and security are of the utmost importance, building owners would also ideally like to include doors that provide a clean and professional look. The aesthetics of the building's features can help you put your best foot forward with customers and others who visit your facility. Luckily, just because a door provides physical security, that doesn't mean that it cannot fit with the design of the building. You don't have to sacrifice style in order to enjoy all the benefits that commercial or bulletproof security doors have to offer. 
Commercial security doors can be constructed using a variety of materials and custom made to fit your exact design and security needs. You can choose the color, finish, and various other aesthetic features that complement the rest of your building and your company's brand image. Ultimately, this gives you the ability to enjoy the best of both worlds — form and function. 
If you're interested in adding commercial security doors to your office, retail store, industrial facility, or government building, Insulgard can help. Our team can help you choose the best materials for your specific protection standards, customize the solutions to your size and aesthetic preferences, and then install the protective systems at your location. We offer a variety of materials and solutions to provide protection against everything from extreme weather to ballistics. Additionally, our products are tested to meet rigorous standards from nationally recognized entities like UL and FEMA. To start discussing your security needs with one of our helpful team members, get in touch with us today.