Doors are the main entry points of most public and commercial spaces. So it's natural to consider custom ballistic doors when upgrading physical security measures.
Custom ballistic doors are made of reinforced materials designed to absorb the force of impact from firearms, flying debris, or forced entry threats. Working with a custom security doors specialist can allow you to access the materials and designs that not only suit the safety and security needs of your team but also fit the architecture and style of your facility.
Here's what you should know about custom security doors if you're looking for ways to upgrade safety around your government building or commercial space.
What Are Ballistic Doors?
Custom ballistic doors include any door that is manufactured with reinforced materials that are designed to absorb ballistic impact. Though no material is completely "bulletproof," these doors are built and tested to prevent shattering or spalling when struck with certain rounds.
Various levels of protection are available, from those that can withstand impact from a small caliber handgun to those designed to protect against shotgun ballistics. UL 752 is the main industry testing standard that is used to determine and evaluate the bullet-resistant capabilities of security doors. Each level offers a different type of protection, from Level 1 products designed to absorb small caliber handgun rounds to higher level products that can absorb ballistic rounds from rifles and shotguns. To make the most of all these options, building designers and personnel can work with a provider to determine the exact level that is right for their security needs.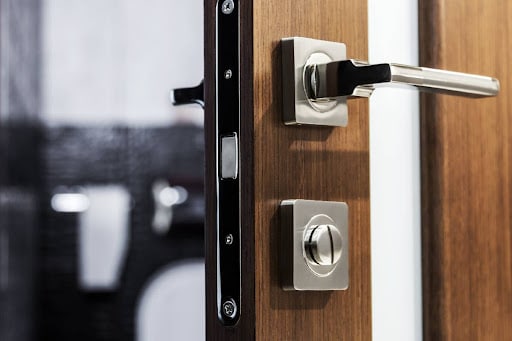 While the material for the actual doors is important, especially because this is such a common entry point, custom security doors can also be used alongside other security measures. For example, it's usually beneficial for companies to invest in security frames and reinforced materials around the entryway. Facilities can also enhance security using bullet-resistant windows, surveillance cameras, and security personnel.
What Are the Benefits of Custom Security Doors?
Improved safety is the most important benefit and common reason why building owners and decision makers invest in custom security doors. Since these materials resist against ballistic attack and prevent spalling and shattering, they can protect employees, visitors, and resources inside a building or secure area. Even if these doors eventually break down due to prolonged ballistic impact, they prevent dangerous shattering and provide extra time for personnel to get to safety or first responders to arrive on the scene.
Additionally, the mere presence of ballistic doors can prevent some security incidents from occurring in the first place. Since many intruders look for easy targets with a low chance of getting caught, these physical security measures often deter potential theft or violent action. Ultimately, this can make your location safer for both employees and visitors, improving working conditions and helping everyone in your building feel safe and comfortable. While there are plenty of areas that may be secured with ballistic materials, doors are usually the main point of entry. So these benefits are often most noticeable in these spots.
Since custom security doors can be made to the exact specifications of each building or structure, you can enjoy these security benefits without sacrificing the style or practical needs of your facility. For example, you can select materials that provide good optical clarity to provide lots of natural light and to avoid obstructing security cameras.
What Are Some Common Applications for Custom Ballistic Doors?
Basically any building or structure that requires extra security may benefit from custom ballistic doors. They are commonly used in schools, government buildings, banks and public safety facilities. Even retail businesses and storefronts can use them to prevent theft, vandalism, and violence. There are also some emerging industries that are making use of custom security doors to protect money, in-demand products, and workers. For example, legal cannabis dispensaries have been common theft targets in many areas due to their products and the large amounts of cash often kept on hand. Custom security doors can shore up these buildings after hours or secure specific areas.
Custom security doors can also be used to shore up the structure of various outposts that house workers or valuable goods. For instance, they may be used in security booths that house guards at the entrance to a large corporate campus or government complex. Both in these structures and larger buildings, custom security doors can be used in conjunction with other physical security upgrades like bullet-resistant windows, ballistic panels, and security cameras and alarms.
Additionally, custom ballistic doors can be used inside buildings as well as around the exteriors. For example, banks often use custom security doors to protect money counting rooms or storage areas. This provides extra protection to keep anyone who's already inside the building from breaching this specific area. Custom security doors can also be used in the construction of safe rooms inside educational or religious facilities, or storage rooms in dispensaries or other retail businesses with lots of cash or valuable products that may be targets of theft.
If you're looking for custom security doors to enhance safety around your building or facility, Insulgard can help. Our BulletBlock line of products is tested to ensure high levels of protection. We employ a knowledgeable team of experts who can direct you to the products and value added services that best suit your security objectives. Visit our website to learn more about our custom ballistic doors and to schedule a consultation to discuss your location's security needs.