The coronavirus pandemic has made a huge impact on businesses and organizations, who can benefit from sneezeguards, across a variety of industries. Unfortunately, many facilities have been left without much needed protective equipment and safety measures in place.
To protect employees and members of the public, essential businesses and healthcare facilities need practical safety solutions that are quick and easy to implement. Sneezeguards provide a solid barrier that can make it more difficult for customers and team members to transmit germs between individuals.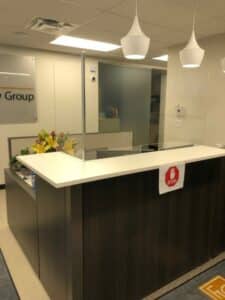 When combined with social distancing and other safety measures, these structures can provide a sensible and customizable way to improve safety conditions in a variety of settings.
Essentially, sneezeguards are thin, clear sheets of plastic material that are installed over customer service counters or other areas where customers and employees may need to interact with one another. They are customizable, so businesses can choose the size, location, and installation method that works best to support their own operations. And perhaps most importantly, businesses and organizations can quickly and easily install these structures on site to begin protecting employees and visitors right away.
If you think that your location could benefit from adding sneeze guards to help protect against coronavirus, here are some of the most important things you should know right now.
How Businesses and Customers Benefit From Sneezeguards
The idea behind sneeze guards is that they provide a barrier between employees and customers in a customer service or retail setting. This can make it more difficult for employees or customers who might be at risk to transmit or come into contact with the virus. The material is thin and clear, so it still allows for clear and easy communication between customers and employees when needed. You can even leave clearance below or include a small pass-through area for people to pass payment or other small items to the other side.
This type of protective system may currently be applicable for essential businesses like grocery stores, carryout restaurants, pharmacies, banks, and retail stores that sell essential home supplies. They can support workers by offering another level of protection and allow easy interaction between customers and employees while still supporting social distancing guidelines and safety procedures. Though sanitization against COVID-19 specifically isn't known, these materials can be cleaned easily to reduce the likelihood of spreading various germs.
In addition to using sneezeguards to help protect against coronavirus, these systems can also have applications that go beyond the current pandemic. Providing a physical barrier over customer service counters in general can help to slow the spread of other germs or viruses and provide a more secure area for employees to work.
Healthcare Facilities Protect Employees and Patients
Today, healthcare facilities may be especially vulnerable when it comes to transmitting coronavirus and other infectious diseases. In many cases, doctors and nurses need to be in close proximity to patients in order to provide care. However, support staff who check in patients, collect payments, and arrange appointments can usually perform these tasks behind a desk or reception area. Since these staff members are likely to have contact with a wide array of patients, keeping the area where they work secure and protected can help to stop or slow the spread to both healthcare workers and other patients.
Additionally, some healthcare facilities may be able to utilize sneeze guards to separate caregivers and patients during the preliminary stages of their appointments. When used in conjunction with other personal protection equipment that's approved for use by medical professionals, sneeze guards can help workers remain safe and healthy so they can continue providing quality care to patients and performing other essential tasks.
How Insulgard Is Leading The Way In Sneeze Guard Response
If you're interested in using sneezeguards to help protect against coronavirus at your business or healthcare facility, Insulgard's parent company, Polymershapes, can help. We offer a wide array of clear plastic solutions that are perfect for use in sneeze guard systems.
Materials include crystal-clear acrylic, high-impact polycarbonate, PETG, and several other clear plastic solutions, so you can choose the option that is best suited to the specific needs of your facility. All of the available materials offer transparent visibility, so customers and employees can still enjoy clear communication while gaining access to enhanced protection. If necessary, these systems can also include a pass-through area to collect payments or pass small objects back and forth.
Our sneeze guards can be cut to size to meet the exact measurement requirements of your space and provide quick and easy installation so your facility can gain added protection when you need it most. More specifically, these systems can be freestanding, hung from above, installed with a few screws, or attached with simple double sided adhesive.
We also offer custom routing for facilities with specific fit or aesthetic needs. The standard models are small enough to fit between registers in check out areas, or you can combine multiple panels to create a longer partition to protect employees across multiple workstations.
At Insulgard, our team is knowledgeable about a wide array of protective solutions, from bullet resistant glass systems to doors and windows for hurricane and tornado safe rooms. We're equipped with quality materials and vast industry knowledge to help you make the best decisions for your specific project. Working with our team means gaining access to high quality solutions when you need them, including the ability to adapt and act quickly to provide protection at your facility when unexpected events arise.
Visit our website today to start protecting your business or healthcare facility with custom sneeze guards.