Custom bulletproof glass barriers offer a high level of protection that can benefit nearly any facility. Banks, government buildings, offices, retail stores, churches, and schools can all benefit from the protection that these materials offer. However, any material with such wide appeal may need to be customized to suit the exact needs of each facility. There is no one-size-fits-all solution that works perfectly in every unique space.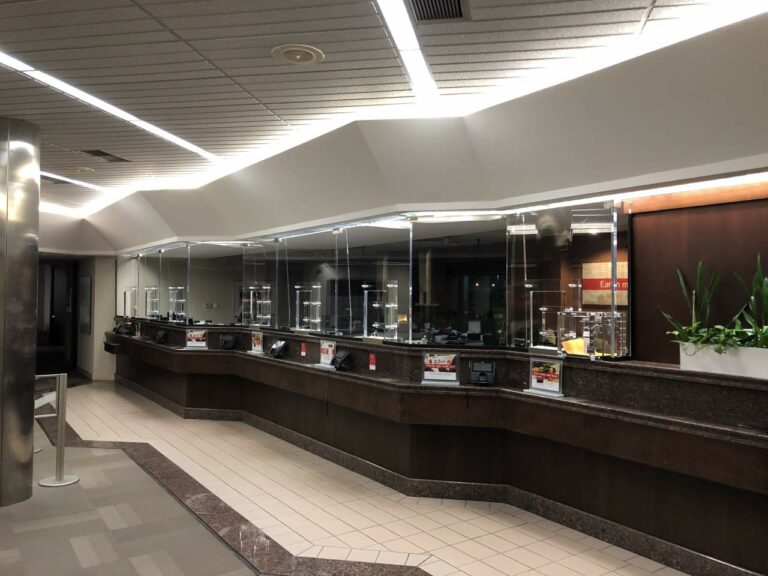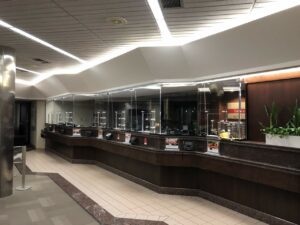 That's why it's so important to work with a provider that offers custom bulletproof glass barriers. Here's what you should know about this concept before investing in security solutions for your next building project.
What Are Custom Bulletproof Glass Barriers?
Bulletproof glass barriers are security enclosures that are fabricated from bullet-resistant glazing materials and installed on existing counters or half walls.  These barriers provide a level of protection while still allowing for easy communication with the customer and a means of passing documents and paperwork securely.  Although they are referred to as bulletproof "glass" barriers, most times the glazing materials used to construct these barriers do not include glass at all.  Typically these barriers are constructed from plastic materials such as acrylics or laminated polycarbonates because they are much easier to fabricate than glass including cutting, drilling, routing, and polishing.  
These products still meet the same bullet-resistant properties of glass but they are much easier to customize.  This makes it easier to integrate these materials into an existing building, fit them into a particular design aesthetic, or match them with the unique security needs of your facility. 
In What Ways Can The Barriers Be Customized?
Size and shape are perhaps the most common and important types of customizations offered for many facilities. This is especially important when retrofitting products to existing facilities. But it can also be important in new construction projects as well. In existing buildings, you may only have a specific amount of space to install these solutions without disrupting the other structures that are already in place. For example, if your countertops are custom made, you would need a barrier designed to work with the custom countertops seamlessly and appear that the barrier was a part of the overall original design. The same may be true for other areas of the space. New construction projects often have a bit more leeway in this area, since the other elements may not physically be in place yet. But designers, architects, engineers, and builders need to fit so many elements into a tight space and account for things like building codes and the needs of clients. So the ability to customize security products and solutions to fit with other elements can be a major benefit in these projects as well.
Bullet-resistant glazing is also offered in various levels of protection. So choosing the most relevant level of protection is another way to customize products to your needs. Specifically, UL752 testing standard for bullet-resistant glass products consists of 8 different levels of protection.  From level 1 which consists of 3 shots from a 9mm handgun up to level 8 which entails 5 shots from a 7.62mm rifle. For the most part, the bullet-resistant glass barriers are available in UL752 levels 1, 2, and 3.  So before businesses or organizations invest in custom bulletproof glass barriers, it's beneficial to complete a threat assessment for your facility. Then you can specify the exact type and level of protection needed and choose those materials along with your other sizing and design needs. 
In addition, there are security glass solutions that provide protection in other areas as well. For example, some buildings may benefit from bullet-resistant windows, doors, or even storefront systems that can prevent bad actors from gaining access to the premises in the first place.  So it's important to look at all security aspects of the building and choose products that make the most sense. 
From there, many building owners, architects, and builders require products that fit with the style and design elements of their structures. This is important for both existing buildings and new construction projects. You don't want protective solutions that completely take over the space or make it difficult for people to carry out their daily tasks. For example, bulletproof barriers over customer service areas have clean lines, polished edges, and very limited framing so as to provide an open and inviting feel to the customer.  Whereas entryway systems in historic buildings may require framing elements that match the rest of the materials used in the area. 
What Should I Look For in a Custom Bulletproof Glass Provider?
Safety and security are the most important elements of any building upgrade or construction project. So make sure the provider you choose has products that meet the specific UL testing standards required for the project. Since UL is an independent testing body, you can feel confident that your investment will provide the exact level of protection needed to keep employees safe and protect your investment. 
From there, make sure the provider exhibits knowledge of the industry and can provide solid references for work they've completed in the past.  In most cases, bullet-resistant barriers are turnkey projects.  In other words, the security provider will be responsible for gathering dimensions of the space, providing shop drawings, fabricating the barrier system, and then installing it.  There are a lot of moving parts and it is important that the security provider you choose is experienced with all elements of the project. 
You can find all these qualities and more by working with Insulgard. Our knowledgeable team can help you through the entire process, walking you through product options and helping you choose customization options to suit each aspect of your project. Our BULLETBLOCK line of products includes materials of various UL levels and aesthetic finishes. And we work with top manufacturers to ensure you get the best quality with your security product investment. Visit our website to get started with your next custom bulletproof glass barriers today.